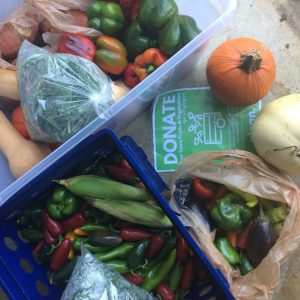 Volunteers like Garth Lehman enable GleanKY to fulfill our mission of keeping produce from going to waste and making sure that it gets to people who need it. Garth has been volunteering with GleanKY for years and makes weekly gleaning trips to Good Foods Co-op, many times with his grandson Paxton in tow. This year alone, Garth has gleaned nearly 1500 Lbs. of produce for Rosie Phillips and Hope Center Jacobs Cafeteria.
From Garth:
"Working with Faith Feeds from the start has been fun. The name, of course, has been changed since then to GleanKy. The work that I have done — collecting produce from markets, orchards, and farmers markets and delivering it to places where people prepare it for those who are either on very low income or no income — is easy to do, though the idea of implementing it was devised by ingenious people other than myself.
It has always been a delight to visit with those at the donation source and with those at the receiving end. My 9-year-old grandson, Paxton, has joined me on several ventures to markets, most recently to Good Foods Coop. The produce manager puts it on a cart and Paxton wheels the cart out and helps put it in the car. He has a ball weighing the boxes on a scale, which Jimmy Earley loaned us, and adding up the numbers. We take the produce to Rosie Phillips on Alabama Street who prepares it for the Catholic Action Center. Both Paxton and I have developed quite a relationship with Rosie. We always have a good visit when we come to her.
In the past several months Rosie has cut back on the amount of cooking she does, due to health reasons. She seems to be doing fairly well now, but she still keeps a lower profile on her schedule. Whatever produce she is unable to use, we take to the Hope Center Jacobson Cafeteria which is within reasonable distance of Rosie's house. We don't have to take an extra detour to get there.
We may pick up another assignment in the future, but for now our tour to Good Foods and to Rosie's house is a great way to spend an afternoon."