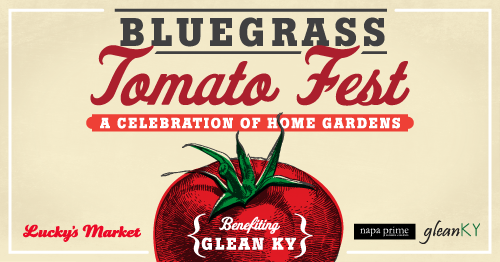 Join us Sunday, August 20 from 4-8 PM for Bluegrass Tomato Fest 2017!
This event is a celebration of home gardening, hosted by our friends Kathy Sink and Cindy Nabar ('the tomato ladies') at the Episcopal Church of the Resurrection (3220 Lexington Rd, Nicholasville, Kentucky 40356). Enjoy live music by The Local Honeys and The Sharecroppers, great food and drink from Napa Prime, rub elbows with Bill Best, taste the entries in the salsa-making contest, let your kids enjoy some great games, and more!
Not only is this a great opportunity to come have fun as we near the end of summer, it's a good way to support GleanKY. Though the event itself is free, GleanKY will be accepting donations, signing up new volunteers, and accepting donations of produce. If you're a home gardener with more produce than you can handle, bring it down and GleanKY will find it a good home!
Click here to sign up as a volunteer for the Tomato Fest!