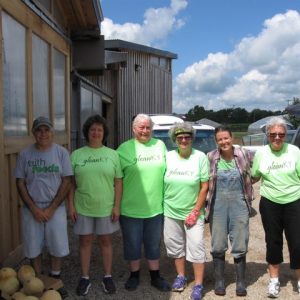 As GleanKY's work grows, so too does the need for a greater number of volunteer leaders throughout the state. Given our limited staff, these volunteers are essential to our ability to respond quickly and reliably to farms, orchards, and farmers markets with excess produce – wherever they are, they allow GleanKY's mission to carry on.
One thing I hear a lot from these folks is the need to feel well-trained as a volunteer leader, and to have a training consistent with others throughout our volunteer network. So, this month, we're launching a series of monthly 'Master Gleaner Webinars' to get everyone trained and on the same page. Not only will these webinars serve as way of training those new to our organization, they'll be an opportunity for our volunteer leaders throughout the state to meet each other. More importantly, I'm hoping it'll be a chance for them to learn from each other – to solve problems, and for our longtime volunteers to share what works with those who are just starting to glean in their communities.
The first webinar in this six-month series will take place on Monday, April 29 at noon. It will be free, available for anyone to attend, and a recording will be posted online to view at a later time. I recommend attending the webinar live, though, so you can ask questions and discuss things with our other volunteers!
The webinar series is expected to be structured as follows:
April 29, 2019 – 12:00 PM: GleanKY 101 – Basic Volunteer Training and History of GleanKY
May 20, 2019 – 12:00 PM: Gleaning Farmers Markets – Getting Started and Meeting Local Growers
June 24, 2019 – 12:00 PM: Staying Safe – Protecting Our Sources, Our Recipients, and Ourselves
July 29, 2019 – 12:00 PM: Reaching Out – Finding Volunteers, Produce to Glean, and Groups Who Need It
August 26, 2019 – 12:00 PM: Communications – Using GleanKY's Systems to Manage Gleaning
September 30, 2019 – 12:00 PM: Staying In Touch – Retaining Volunteers and Partners for Next Year
I'll have a link available to share soon so you can join us for our first webinar, but in the meantime, you can let me know if you're interested in attending by emailing ben@gleanky.org. I'll add you to the list, and have the link to you as soon as it's ready to go!