The season of giving is right around the corner and one of the top events that kicks off our year end campaign is the Thoroughbred Classic. GleanKY has been beneficiary for the annual 5K for three years to raise money for our mission, as well as several other worthy organizations. I asked the race directors from the Bluegrass Running Club to tell us about the race and a bit about themselves.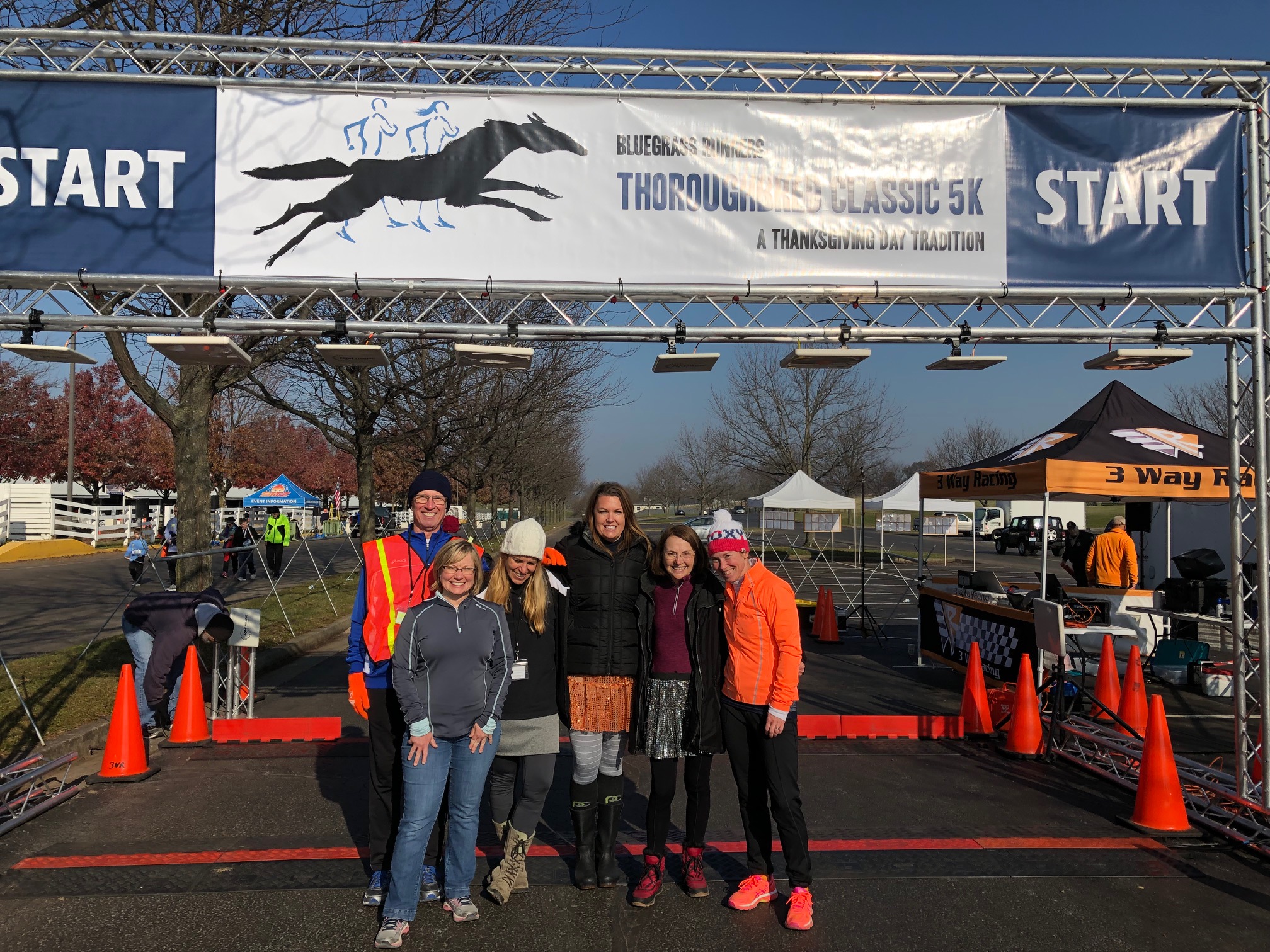 1. Hey Thoroughbred Classic Race Directors! Tell us about yourselves!
Sandy: I discovered running after I retired from the Lexington-Fayette Urban County
Government. I fell in love with running after training for my first race a half marathon (13.1 miles)
in 1999. Since then I've run lots of races, qualified for and ran the Boston Marathon, and found
a great community of friends.
Annette: I am a runner, a wife, a mother, and a high school English teacher.  I didn't start
running until I was 27 and have fallen in love with it.  The time with friends, the time alone after
work, and the feeling of accomplishment with each finish line keeps me committed to the sport.
Mike:  I am retired and have been for 3 years.  I started running when I turned 50 and was
getting too slow to play basketball anymore
Deborah: I started running as an adult. I worked out regularly at the gym.  Muscle fitness had
an article "you can run a half marathon too". I was tired of being inside, followed the plan in the
magazine and just kept going.  Meeting the bluegrass runners was a big incentive to keep
running. I think we talk more than we run.
Lisa: I'm a dog mom and an x-Ray tech at the VA. I ran my first half marathon in 2009 and my
first marathon in 2011. I love the way running makes me feel physically and mentally.
Mary Beth: I'm a lawyer and have been running since I graduated from college and discovered
there were no post-college Cheerleader clubs. I love the camaraderie and relationships I have
developed as a result of running over the years, especially with BGR members.
2. Can you tell us about Bluegrass Runners Club? (Especially the work you guys do in the
community)
Bluegrass Runners is a non-profit running club based in Lexington, KY. Our club is devoted to
promoting fitness, fellowship, and fun for runners of all ages and abilities. Founded in 1972
Bluegrass Runners is Kentucky's oldest running club. In 1983 Bluegrass Runners started a
Thanksgiving tradition by hosting a running event. The main purpose of the Thoroughbred
Classic 5K is to raise money for local charities. While we don't have records going back to 1983,
we do know that since 1992 donations of more than $350,000 have been given to 25 local
charities. A total of $175,000 has been donated in the last 5 years!
3. To you, what is the perfect running weather?
Sandy: I like cooler temperatures for running. For training runs I prefer 40 to 50 degrees. I think
the perfect temperature for racing is around 30 degrees.
Annette: I'm like Sandy.  I love a nice, cool day in the spring or fall, especially if I can run in a
natural space.  Having the girls with me is a bonus!
Mike: My perfect running weather is 50 degrees, but I will run in any weather (except lightening).
Deborah: I'm sometimes a baby about being cold or hot or if it's raining too hard. It's amazing
that I actually cover any distance.
Lisa: I love 50 degrees!
Mary Beth: I'm always cold, so I'm a 60s and 70s kind of girl. I love to be able to wear a
skirt/skort and long sleeves.
4. How can someone join the Bluegrass Runners Club?
That is super easy – just go to www.bluegrassrunners.org.
5. The Thoroughbred Classic is on Thanksgiving. Why was that date chosen?
Well that's before my time as a runner and before I joined the club. I've been told that there are
more races on Thanksgiving Day than any other day in the year, so I'm guessing that factored
into the decision to hold the race that day. I can't think of a better way to start a day devoted to
eating lots of yummy food and sitting around watching football with family and friends!
6. Who benefits from the Thoroughbred Classic?
Each year Bluegrass Runners accepts applications from local charities to partner with us. This
year our charity partners are CASA of Lexington, Central Kentucky Radio Eye, E7 Kids Cafe,
GleanKY, Kentucky Equal Justice Center's Maxwell Street Legal Clinic, and The Nest.
7. How can someone sign up to run or volunteer?
Runners and volunteers can register for the race at
https://runsignup.com/Race/KY/Lexington/ThoroughbredClassic5KKayCollinsMemorialMile
8. What is your favorite way to treat yourself after a race, especially one that falls on such an
important pie holiday?
Sandy: My favorite post race meal is pancakes with lots of syrup. I love pie but my favorite
splurge dessert is ice-cream-lots and lots of ice cream!
Annette: French fries and a Coke!  Okay, and a cheeseburger!
Mike: My favorite after race meal is a big juicy hamburger and french fries.
Deborah: Food, all the food. I love going to breakfast with my runner friends after a long run.
Lisa: I love French fries and a beer… and sometimes French toast. I would love to have all 3
after a marathon.
Mary Beth: Like a broken record – FOOD! Doughnuts, French fries, pancakes – those are
some of my post-run faves.
9. Which side of GleanKY's mission resonates with you the most- Hunger or Food Waste?
They are both important issues that need to be addressed. No one should have to go hungry
when we have so much food waste in this country, and we think it is so important that Glean is
trying to help both problems.