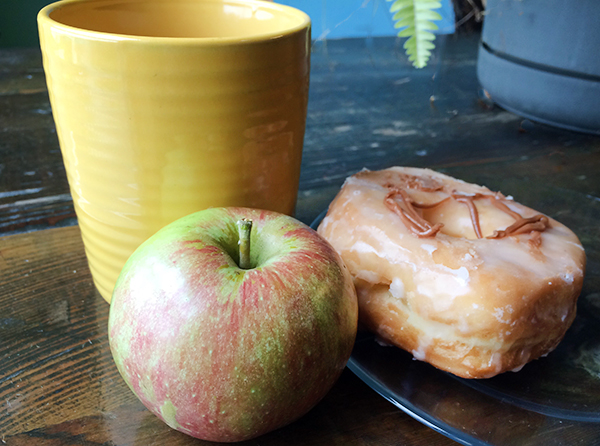 Join us at Reed Valley Orchard Mondays in September for donuts, cider and a brief orientation to orchard gleaning before our regular apple harvest. New and experienced gleaners are welcome. Meet us at 9 a.m. and after we enjoy a treat together, we'll glean from 9:30-11:30 a.m. If you have room in your car, you can help us make apple deliveries afterwards. Click here to sign up!
Group Gleaning
Orchard gleaning is a great opportunity for co-workers, scouts, church groups and others to volunteer together. Did you know that GleanKY will help you customize a gleaning trip just for your group? Call the GleanKY office at 859-444-4769 to set up a date.
Orchard Gleaning FAQs
Have questions about your next trip out to the orchard? Here are some insights into gleaners frequently asked questions:
Is there minimum/maximum number of volunteers a group can bring?
We don't have limits on the number of people who join us at the orchard. Our philosophy is that with more hands, we can glean more apples, so we welcome all the help we can get. Please bare in mind, though, if you bring out a small group, there may be other volunteers gleaning with you.
Do they have to stay the whole time? 
We typically glean for 2 hours and allow an extra hour for volunteers to help deliver the produce. It's helpful if you can commit to this time frame, as it ensures that we have enough hands available to get the work done. However, if you need to leave the orchard early, let the orchard gleaning coordinator know ahead of time, so other plans for volunteers can be made in your absence.
Can they help deliver produce?
We'd love for you to help deliver produce. The orchard gleaning coordinator will let you know planned recipients we have scheduled for that day and provide you directions on where to take the apples.
Can they pick where the produce goes? 
If you have a connection with a community or organization that can use apples to feed the food-insecure and would like to take gleaned apples to them, please let us know in advance. We have partner recipients who are counting on receiving apples, but if we glean enough extra, we'd love to add more recipients to the mix.
 Do they need to bring anything? 
Bags for gathering apples, work gloves and cardboard boxes for delivering apples in are items that are always helpful with orchard gleaning. We will have many of these items on hand, but it's great if you can bring your own, particularly if you're gleaning with a large group. If you have any specific questions about what to bring, talk with the orchard gleaning coordinator prior to your gleaning trip.
Do they need to show up in inclement weather?
The orchard gleaning coordinator will let you know if a gleaning trip has been cancelled due to weather.